Alakshmi (アラクスミ) is a Swashbuckler and a member of D.D.D. She is among several D.D.D members that originated from the D.D.D Diaries fan fiction work, and her original illustration was created by the artist, may.
Like Tetora, she is actually a man in real life who uses a female avatar in Elder Tale.
Appearance
Edit
Alakshmi has long brown hair and attire resembling an Arabian dancer's.
Personality
Edit
Synopsis
Edit
Prior to the Catastrophe
Edit
In real life, Alakshmi was a man with a deep, rich voice. After the Catastrophe, he was stuck in his avatar's female body, but still had his real-life voice.[1]
Return of the Goblin King arc
Edit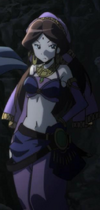 She appears alongside Krusty and Rieze in the battle against the Goblin General's army. After he charges towards the Goblin General, she and Rieze follow right behind him.[2]
Fallen Guardian arc
Edit
Alakshmi is seen as one of the D.D.D members that went to Seventh Fall to finish the Return of the Goblin King event.
Other Media
Edit
Alakshmi

Class
Rarity
Role
Type
Attribute
Swashbuckler
Attack
Midguard
Max LV
HP
ATK
DEF
SPD
75
25731
34789
24075
28840
Skills
Thrasher Dash (LV1)
Lightning Step (LV10)
Whirlwind (LV25)
Dance of Death (LV35)
Stats are based off of max evolution, max level unless otherwise noted. The Luck stat is not included, as it does not display on character previews.
Description: A Swashbuckler belonging to D.D.D. Her dancer-style equipment gives her the appearance of an exotic beauty. She is also known as "MAJIDE."
Special Effect: Has a low probability to inflict Confusion on an enemy for one turn.
Alakshmi is recruited if you draw the SR sword Saber Dancer.
Equipment
Edit
Alakshmi is briefly seen using a dagger in "Contract". It seems that, from her art in the SNG, she only uses one dagger.
She is one of the D.D.D members that comes from D.D.D Diaries.
Tetora and Alakshmi are the two known players who kept their avatars' opposite gender body, and both were male in real life. The other two known players whose avatars originally were of the opposite gender, Akatsuki and Magus, took Appearance Reset Potions to switch their avatars back to their real life genders.
References
Edit
Ad blocker interference detected!
Wikia is a free-to-use site that makes money from advertising. We have a modified experience for viewers using ad blockers

Wikia is not accessible if you've made further modifications. Remove the custom ad blocker rule(s) and the page will load as expected.