Enkaatanto is a Werecat Bard-Alchemist and a member of Silver Sword. He was a member of the first party of the Abyssal Shaft Raid Party.
Appearance
Edit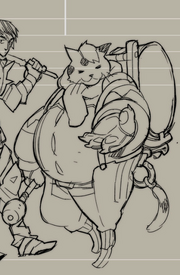 Enkaatanto is a rather large Werecat with constantly-squinted eyes and large paws. His round figure makes him very popular with children.
Personality
Edit
In spite of his appearance, Enkaatanto is one of the most grounded and realistic members in Silver Sword.
Synopsis
Edit
Gold of the Kunie arc
Edit
Equipment
Edit
References
Edit
Ad blocker interference detected!
Wikia is a free-to-use site that makes money from advertising. We have a modified experience for viewers using ad blockers

Wikia is not accessible if you've made further modifications. Remove the custom ad blocker rule(s) and the page will load as expected.