For the manga adaption, see Log Horizon: Kanami, Go! East!.
For episode, see Kanami, Go! East! (Episode).
—Yen On description
Log Horizon 9: Go East, Kanami! (Kanami, Go! East! in the Japanese version) is the ninth volume of the Log Horizon light novel series and is the first of a three-volume side-story that focuses on Kanami's Party in the Chinese server rather than on the Yamato server. It is continued in volume 11.
Even though Kanami is made out to be the main character of this story, the story is primarily told from Leonardo's perspective rather than Kanami's.
Chapter 1: Travelling Companion
Edit
Chapter 2: Village of Thekkek
Edit
Chapter 3: Dragon in Heaven's Fang
Edit
Chapter 4: Dog Fight
Edit
Chapter 5: Go East
Edit
Characters
Edit
Extra Content
Edit
Debauchery Tea Party
Edit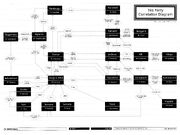 The Appendix to volume 9 gave information for the Debauchery Tea Party members, including those who were not online during the Catastrophe; they had previously been revealed in a fan book, but were never officially published.
Along with the basic information of the members, there was also a relationship chart given. However, the relationship chart did not include every member in it due to the lack of space.
Overseas Classes: Part 1
Edit
Mamare Touno and Ishihara Shinji (the anime director) created designs and class icons for the unique overseas server classes. In this part they covered the North American, Central/South American, Korean, and Chinese servers. At the end of the description, it stated that they would continue with the second installment, which was released in volume 11.
The contents of Go East, Kanami! are taken from a side-story called "Dragonhowl Mountains" that Mamare originally published on his website (mamare.net, which is no longer operational). In chronological order of his writings, this is also the first time Kanami is actually named; volumes 1-5 never reveal her name.

Leonardo's resemblance to the famous Teenage Mutant Ninja Turtle is also downplayed for the published volume; he looks like a frog, not a turtle, and his favorite food is sushi instead of pizza. However, the latter change didn't make it into the anime, which still has him say that he's fondest of pizza.