Liliana (リリアナ) is a female Elf Druid-Tailor[1] and the Production Team leader in the Crescent Moon Alliance.
Her birthday is October 12.[1]
Appearance
Edit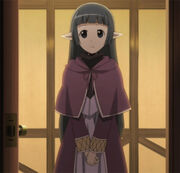 Liliana is a young woman with long, dark hair and eyes. She is of the elf race.
Personality
Edit
Unlike most of the other members of her guild, Liliana has little interest in battle and is ill-suited for fighting on the battlefield, which is exemplified by her preference for showy, rather than practical, clothing. Her hobby—and now occupation—is designing clothing.[2]
Saving Serara arc
Edit
While Shiroe's Party was en route to save Serara, Liliana retrieves her guild master when the attendees of the small guild alliance conference arrived.
References
Edit
Ad blocker interference detected!
Wikia is a free-to-use site that makes money from advertising. We have a modified experience for viewers using ad blockers

Wikia is not accessible if you've made further modifications. Remove the custom ad blocker rule(s) and the page will load as expected.