Season 1

 | 

Season 2

Log Horizon
Kanji

ログ・ホライズン

Rōmaji

Rogu Horaizun

Media

Author
Broadcasted By

NHK

Produced By

Satelight (S1)
Studio DEEN (S2)

Series

Episodes

25 (S1)
25 (S2)[1]

Original Run

Oct. 5, 2013—Mar. 22, 2014 (Season 1)
Oct. 4, 2014—Mar. 28, 2015 (Season 2)
Log Horizon is an anime adaptation of the light novel by the same name written by Mamare Touno.
The anime is produced by Satelight Studios and directed by Shinji Ishihira, along with series composition by Toshizo Nemoto, character designs by Mariko Ito based on the original designs by Kazuhiro Hara, art direction by Yuki Nomura, sound direction by Shoji Hata and soundtrack music by Yasuharu Takanashi.The series premiered on October 5, 2013 on NHK Educational TV. The series has been picked up by Crunchyroll for online simulcast streaming in North America and other select parts of the world. The anime has been licensed for a home video release in November 2014 by Sentai Filmworks in North America.
The opening theme is "database" by Man With A Mission ft. Takuma while the ending theme is "Your song*" by Yun*chi.
A second season began airing on October 4, 2014.[2] The opening music stays the same as the first season, with new animation while the ED is Yun*chi's "Wonderful Wonder World*".[3] Like Season 1, Season 2 also has 25 episodes.[1]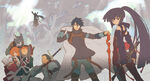 The story takes place in a universe where 30,000 Japanese gamers and several thousand worldwide players are trapped in a fantasy online game world called Elder Tale.
By its eleventh expansion pack, the MMORPG Elder Tale has become a global success, having a following of millions of players. However, during the release of its twelfth expansion pack, the Noosphere Pioneers, thirty thousand Japanese gamers who are all logged on at the time of the update suddenly find themselves transported inside the game world and donning their in-game avatars. In the midst of the event, a socially awkward gamer called Shiroe along with his friends Naotsugu and Akatsuki team up so that they may face this world which has now become their reality along with the challenges which lie ahead. For these players, what was once a "sword-and-sorcery world" is now the "real world."
Main article: List of Log Horizon Episodes
Season 1 consists of 25 episodes. The first episode (The Apocalypse) aired on October 6, 2013 and ended on March 22, 2014 with the final episode (The Scale Festival)
The second season has been slated for 25 episodes like the first season.
| | | |
| --- | --- | --- |
| 11 | Retry | December 13, 2014 |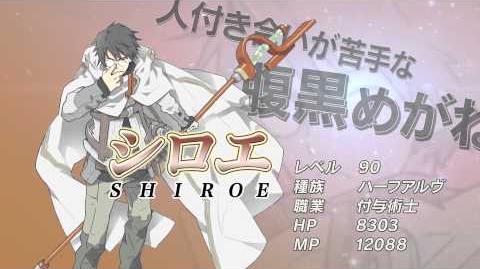 Official Sites
Edit
References
Edit