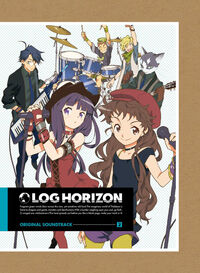 The Log Horizon Original Soundtrack 2 is the soundtrack album for the second season of Log Horizon. It was released on March 4, 2015, and includes tracks from the first season that weren't included the first album, as well as new ones from the second season.
Tracklist:
Edit
Birthday Song
Edit
Japanese
Romanization
海風アスフ アルト 坂越えたら
次の街が見ぇる 旅はこれから
小さな合図に 弦を鳴らして
窓を開け放ち 今日も始めよう
Umi kaze asufaruto / zaka koe tara
Tsugi no machi ga mi eru / tabi wa kore kara
Chiisana aizu ni / gen o nara shiite
Mado o akehanachi / kyou mo hajimeyou
もしこの歌が 聞こぇなくても
小さなこの世界に 閉じ込められていても
大丈夫 ここにいるから
胸の痛む昨日を 書き換えてしまうの
Mo-shi kono uta ga / kikoenakute mo
Chiisana kono sekai ni / tojikome rarete ite mo
Daijoubu / koko ni irukara
Mune no itamu kinou o / kakikaete shimau no
忘れなぃキラキラ 虹をふりまき
わたしの野望が 音符になる
忘れないキラキラ キミと指切り
臆病なリユートも 今日は違うわ
Wasurena ~i kira-kira / niji o furimaki
Watashi no yabou ga / onpu ni naru
Wasurenai kira-kira / kimi to yubikiri
Okubyōna riyūto mo / kyō wa chigau wa
一晩中話して 星が沈めば
朝靄にお早う 旅はこれから
通い慣れた道 みんなはしゃいで
Hitobanjū hanashite / hoshi ga shizumeba
Asamoya ni ohayou / tabi wa kore kara

Singable Lyrics*: (incomplete)
Sea winds blow across the blue ocean / As my feet beat the road
See, the town is just over the hill / That is the place where we'll play
Listening to my lute's plucks / Doesn't it strike a chord?
Open up the door to your heart / Let's take a new step today
Even if I'm deaf to song / Even if I'm trapped in this world
To everyone who just wants to go home / This is a song that is meant for you all
It'll be alright
*The singable lyrics are meant to be able to be sung to the tune of the Japanese version. However, they are not necessarily accurate to a direct translation.
Ad blocker interference detected!
Wikia is a free-to-use site that makes money from advertising. We have a modified experience for viewers using ad blockers

Wikia is not accessible if you've made further modifications. Remove the custom ad blocker rule(s) and the page will load as expected.