The Roderick Firm (known as the Roderic Merchant Guild in the anime) is a major production guild in Elder Tale.
Overview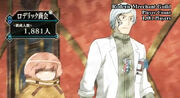 The Roderick Firm is the second-largest production guild in Akiba. After the Catastrophe, this guild focused on research and attempted to gather every kind of recipe and item.
Members with the same subclass and conduct similar research studies form fixed groups called "sections" or "departments." They share the same resources collected for the guild. Mikakage, for example, as a Chef, is among those investigating the ongoing changes related to the creation of food by non-Chef Adventurers.
Members
References
↑

Log Horizon Anime: Episode 9