Yuuta is a Human Monk in the MMO Elder Tale. He is a former player who created a new account after several years of inactivity, having been spurred to begin replaying after starting to date Yaezakura.
He makes his debut in the side-story novel, Kushi Yatama, Do Your Best!
Appearance
Edit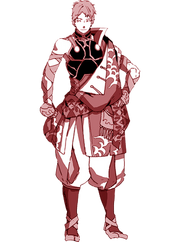 Personality
Edit
To most people, he appears to be mild-mannered and agreeable. However, he is in fact a schemer who simply does things at his own pace with a smile.
Prior to the Catastrophe
Edit
While Yuuta wasn't a member of a guild and didn't have any raid experience on his original account, he'd maxed out his character's level (which was 80 at the time), so he has reasonable knowledge about the game.[1]
Equipment
Edit
References
Edit